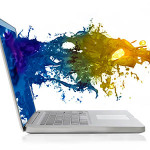 Standing out from the crowd in this ever so competitive market of business is exactly what you need to run a successful business.  With the onslaught of electronic businesses trying to push you out of the marketplace, Elysium Studios can help to give you that edge over your competition.
Not only can we work with you to graphically design your new business image, we can work with you one-on-one to re-brand your image, to make it jump out again and to help to bring those crowds back through your door.
Whether it be logo design, business card or letterhead design or simply an eBook or catalog design that sits on your website (or in print), we can work within your needs and budget.
Give us a call on 0411 655 700 or contact us and we can quote you on all of your needs.